Reading Time:
4
minutes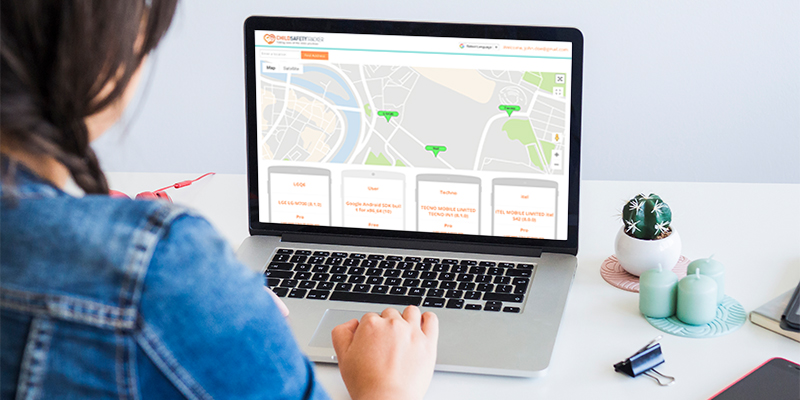 Protecting children in an increasingly digital world can be extra challenging for any parent. After all, this is an age when danger lurks not only in the physical world but more so in the virtual. Feeling anxious about your children's safety? You're not alone. Luckily, the dangers of technology can also be solved by technology itself.
In recent times, various monitoring software solutions have emerged to help parents see what their children are doing on their devices and set digital boundaries for their protection. You don't have to spend a lot of money on an expensive system right away. Try a free child monitoring app like Child Safety Tracker to start. It's not just useful in keeping watch over your children's online activities—it also serves as a child GPS tracker that monitors their location round-the-clock, informing you of their whereabouts and alerting you when they wander from their usual routes.
There are many ways to benefit from a free child monitoring app, ranging from location tracking to online activity monitoring and setting safe boundaries. Below are only some of the major benefits that you can get from Child Safety Tracker: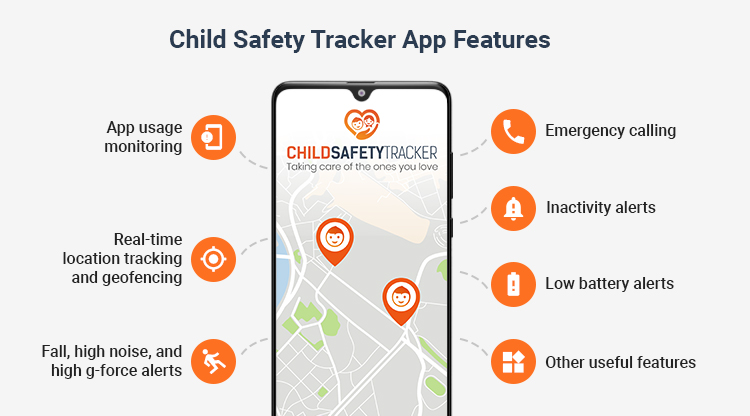 1. App usage monitoring

Protect your kids from cyberbullying and other kinds of online abuse. According to UNICEF, the Internet is one of the newest and most dangerous avenues for child abuse nowadays—and it's easy to see why. After all, this platform lets predators very easily prey on the innocent and the unwitting while keeping their identities unknown. Cyberbullying is also ever-increasing, which often leads to teen depression and suicidal tendencies. With Child Safety Tracker, you can get regular reports on your child's app usage so you can shield them from online abuse, scams, and other online dangers.
2. Real-time location tracking and geofencing

A child GPS tracker is also useful for monitoring your children's whereabouts. Child Safety Tracker is designed to let parents know immediately if and when a child wanders off an unfamiliar place, gets off the wrong bus stop, elopes, doesn't arrive at school, or is left behind by their carpool or school bus. This child monitoring app also allows you to set safe zones, such as your child's school area or perhaps the perimeter of your neighborhood or town. It will send you instant notifications whenever your kid enters or exits a particular vicinity.
3. Fall, high noise, and high g-force alerts

Thanks to advanced technology, Child Safety Tracker can even tap into smartphone features such as built-in motion sensors, which are useful in tracking movement and impact. It can automatically send you alerts in case of sudden jerks and serious shocks that could result in injuries, cuts, and fractures. It can also alert you if your child is in an extremely noisy environment. To avoid false alarms, it is wise to adjust a fall tracker's sensitivity to match the lifestyle of your child.
4. Emergency calling

A free child monitoring app can also send SOS alerts to multiple people (such as members of the family) so that children who are in trouble can easily request assistance from anyone available. It will let these contacts instantly see the current location of the child and take action as soon as possible. Child Safety Tracker even has a unique round-robin call option, which is set up to call all listed emergency contacts one at a time until it connects to an available parent or guardian. Thanks to this app, you can be sure that someone will come for your kids even if you're unavailable or unreachable.
5. Inactivity alerts

Child Safety Tracker is also equipped with other important alert systems to notify you about inactivity. This is useful if you want to make sure that your children aren't using their mobile phones when they aren't supposed to, such as during school hours. These alerts are also useful for tracking a phone that's been left behind or is missing, as the Child Safety Tracker can ping the location and determine the whereabouts of a lost device.
6. Low battery alerts
What's more, Child Safety Tracker can tell you if your child's phone is running low on battery. This type of alert is particularly useful if your kids have to travel alone or have to be left at home without supervision. Keeping your child's mobile phone charged is critical in these situations because it's your only link to them. When you can receive alerts that their phones are low on power, you can immediately remind them to charge their devices.
7. Other useful features 
Use the app to save your child's emergency health information such as blood type, any allergies or medical conditions, and other details that are vital in emergency situations.
The app can also regularly check the active SIM card on the device and notify you if it is swapped with another card, perhaps because your child wants to hide something from you.
Finally, it has an SOS button that sets off a very loud noise to attract attention. Your child can simply press this panic button when troubles arise.
Child Safety Tracker is exactly what parents of digital natives need to protect their children from the dangers of the increasingly hyperconnected world. Download the free version today. It literally takes minutes to install and set up. If you like it, upgrade to the paid version and enjoy a wide range of useful features.