Reading Time:
4
minutes
Have you ever wished you had supernatural powers to know whenever your children are in distress so you can come to their rescue? A free child monitoring app like Child Safety Tracker is all you need. It's an excellent tool for remotely monitoring phone location and overall use, letting you protect your child from the dangers of online scams and abuse, as well as from physical perils like falls and wandering.
This child GPS tracker increases security within the family and provides a way for busy parents to keep track of their children's whereabouts and mobile phone activities. In many ways, Child Safety Tracker can be your first line of defense against many of the dangers of the digital world, from online predators to cyberbullying. It is also useful against other common safety risks among children, like wandering and slips and falls.
With a free child monitoring app like Child Safety Tracker, you can keep a close watch on your kids while they are out and about. It makes parenting a little bit easier by providing families with an affordable but powerful tool that doesn't require any special hardware—just a regular smartphone. Just download it and it's good to go.
Easy to use
This child GPS tracker can be installed directly on any smartphone via Google Play. It's designed to make it super easy to set up emergency and monitoring parameters, create emergency contacts, and specify your reporting and alert preferences.

Once that's done, you can start accessing your child's live location and begin receiving alerts and reports. The online control panel is intuitive and lets you track your child's phone usage 24/7. From it, you can monitor their usage history, too.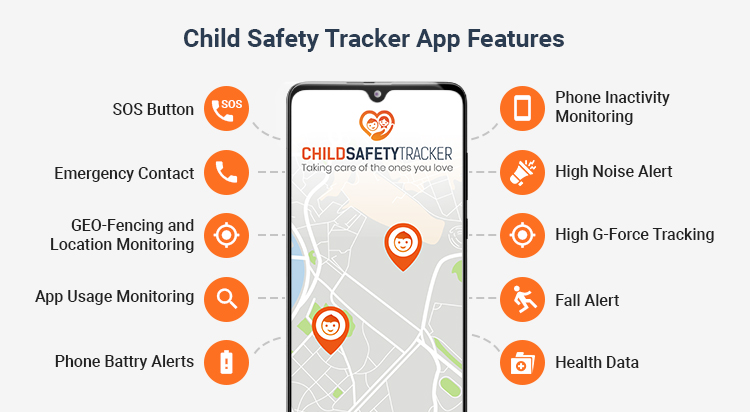 Robust features
Child Safety Tracker provides children an easy one-touch SOS button for when they need immediate help. Your kids can simply click on the button to set off a loud alarm and attract attention.
Another unique feature of this free child monitoring app is the ability to store 5 emergency contacts—a list of people who will be called or alerted when your child in an emergency situation. The app goes through this emergency list until an emergency contact picks up, making sure that help is always available. SOS messages (along with the child's real-time location) can also be sent to these emergency contacts. Thanks to this feature, you can be confident that someone will come and help your child if your phone is unreachable.
GEO-FENCING AND LOCATION MONITORING
Along with location monitoring, Child Safety Tracker can send you geofence alerts for whenever your kids enter or exit the "safe zones" or geographical boundaries that you have pre-set and configured. This will help you monitor if they are wandering beyond familiar areas. Other GPS trackers can only help users monitor device location. But with Child Safety Tracker, it is possible to create virtual fences around your children's most frequented places so you can be alerted whenever they enter or leave these locations.
What's more, this child GPS tracker helps protect your children by giving you the power to monitor their app usage patterns. When you can keep an eye on their online activities, it is easier to protect them from potential dangers like identity theft, cyberbullying, online scams, and other possibilities like child abuse and kidnapping. You can set the app to send you daily reports on your children's app usage.
Child Safety Tracker can even notify you when your child's phone batteries are about to run out. It also sends you their exact location at the time of the alert. The same feature can be helpful in finding the phone if it gets lost and runs out of power.
PHONE INACTIVITY MONITORING
On top of all these, this app allows you to keep an eye on their phone inactivity to ensure that they're not using their phones during school hours or during bedtime. These alerts are also useful in tracking unusual and suspicious idleness, which may indicate that something is wrong on your child's end—be it a lost phone or something more serious.
Noise has been shown to contribute to a child's stress and can even cause lasting harm to young ears. This alert lets you know if your child is in a very noisy environment.
Do you have teenagers who drive? Then this feature will surely be helpful. It will alert you of high G-forces that may result from reckless driving or violent and sudden movements.
This is also among the many useful features of this free child monitoring app. It uses device sensors to monitor potential emergency situations like slips, falls, and injuries that may require immediate medical attention. 
And in case your child needs emergency treatment, the app can be shown pertinent emergency health information you have saved in it, such as your child's allergies, medical conditions, doctor/pediatrician details, and blood type.
Try it for free

In a world that's becoming increasingly dependent on technology, parents need to update their repertoire of parenting tools, hence the demand for free child monitoring app solutions like Child Safety Tracker. Download the free trial version today. Get it on Google Play and start using it right away. If you like it, you can upgrade to the paid version to unlock more features.